GENERAL News & VIEWS
GREEN SINGLE-FAMILY BUILDING PRACTICES
Here's how builders are doing with sustainable building practices over the past few years.

BUILDER CONFIDENCE STAYS STRONG IN FEBRUARY
Builder confidence in the market remained at a healthy level in February.

HOMES ARE A BETTER INVESTMENT THAN RETIREMENT SAVINGS
According to a new study, most Americans consider buying a home as a good investment

There's a sea of home care truisms out there, some of which can sink your budget. Save your cash for more important things, like, you know, your mortgage.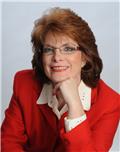 Shari Noctor
ABR, CRS, CRES, CSP, e-PRO, GRI, MBA AB-061614L
phone: 610-266-5241

LISTINGS UPDATE
New Listings
Featured Properties
Sales Pending
Just Sold
HOW READY ARE YOU FOR SPRING?
TOTALLY READY - I'M SO OVER WINTER

NOT READY - I LOVE WINTER

NEUTRAL - I'M FINE EITHER WAY