GENERAL News & VIEWS
HOMEBUILDERS TEAM WITH HABITAT FOR HUMANITY
Home builders and Habitat for Humanity are working to construct or renovate affordable homes around the country.

HOMEOWNER & APPRAISER VALUES AGREE BEST IN 3 YEARS
Just a fraction of a percent of appraisal value can mean thousands of dollars at closing.

HOW MANY AMERICAN HOUSEHOLDS STRUGGLE TO MEET BASIC NEEDS?
Data show a substantial percentage of American households struggle to meet basic needs.

What may seem like a good idea now, may not be in hind-sight. Here are 17 common mistakes new homeowners often make that prove it.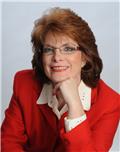 Shari Noctor
ABR, CRS, CRES, CSP, e-PRO, GRI, MBA AB-061614L
phone: 610-266-5241

LISTINGS UPDATE
New Listings
Featured Properties
Sales Pending
Just Sold
WHAT'S YOUR FAVORITE WAY TO BEAT THE HEAT?
TURN ON A FAN