BUILDER CONFIDENCE REMAINS STRONG AS NEW YEAR STARTS

By Robert Dietz

Builder confidence in the market for newly-built single-family homes dropped two points to a level of 72 in January on the National Association of Home Builders/Wells Fargo Housing Market Index (HMI) after reaching an 18-year high in December 2017.

Builders confidence remained strong given changes to the tax code will promote the small business sector and boost broader economic growth. Nonetheless, home builders continue to face building material price increases and shortages of labor and lots. In a recent NAHB survey, 84% of builders cited concerns regarding cost and availability of workers as a key challenge for 2018, matching the 84% who cited rising building material prices.

The HMI gauge of future sales expectations has remained in the 70s, a sign that housing demand should continue to grow in 2018. As the overall economy strengthens, owner-occupied household formation increases, and the supply of existing home inventory tightens, we can expect the single-family housing market to make further gains this year.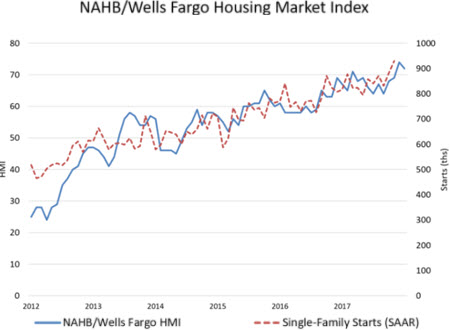 Derived from a monthly survey that NAHB has been conducting for 30 years, the NAHB/Wells Fargo Housing Market Index gauges builder perceptions of current single-family home sales and sales expectations for the next six months as "good," "fair" or "poor." The survey also asks builders to rate traffic of prospective buyers as "high to very high," "average" or "low to very low." Scores for each component are then used to calculate a seasonally adjusted index where any number over 50 indicates that more builders view conditions as good than poor.

The three HMI components registered relatively minor losses in January. The index gauging current sales conditions dropped one point to 79, the component charting sales expectations in the next six months fell a single point to 78, and the index measuring buyer traffic fell four points to 54.

Looking at the three-month moving averages for regional HMI scores, the West rose two points to 81, the South increased one point to 73, the Midwest inched up a single point to 70 and Northeast climbed five points to 59.

HMI tables can be found at nahb.org/hmi.

Original Source: National Association of Home Builders