HOME MAINTENANCE FOR PEOPLE WITH BETTER THINGS TO DO

Article from HouseLogic by Elizabeth Lilly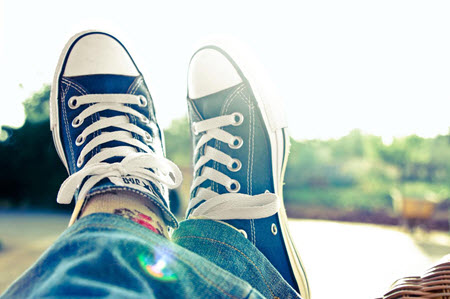 Image: Andrés Nieto Porras

Weekends are meant for coaching a youth soccer team to victory, chopping your way through "Mastering the Art of French Cooking," or training for a 5K to help save the pandas — not working your way through a tedious, 30-item maintenance checklist. But then, taking care of the home you love is important, too.

So how do you have your fun and keep a well-maintained home?

It's simple: Just be mindful of your home. You don't need a rigid maintenance list. (They work best for Type A people anyway.) Instead, train your senses to warn you of these problems, and then act ASAP:

#1 Your Dryer Seems Hotter Than Usual
If your clothes and your dryer are super, super hot or, conversely, your dryer is taking longer to dry, you could have a clogged lint vent, a leading cause of house fires. "Sometimes the dryer connection will wiggle loose going to the outside, causing all sorts of issues with lint," says Jeff Devlin, licensed contractor and host of DIY Network's "Stone House Revival" and "I Hate My Bath." Heat and packed lint make the perfect recipe for fire. To defuse that combination:

Pull out the dryer connection — this is the tube or pipe that connects the dryer to the window vent.


Suck out all the lint from the pipe and pipe connection with a vacuum attachment.


Re-attach, making sure it's not loose or bent.


You can also hire a pro to do it.

#2 You Smell Something Musty
Your nose knows what's normal in your home. "If you go into a room and it smells musty, there's something going on," says Frank Lesh, executive director of American Society of Home Inspectors (ASHI). When you smell that mildew-y smell, you know you've got a problem, he says. What kind of problem? Read on.

#3 You Can See Mold or Mildew
Mold and mildew are the banners for moisture, your home's No. 1 enemy. If you see them, you know moisture has broken through your home's defenses and is bringing reinforcements. Find out where the water source is and eradicate it ASAP. Moisture is like cancer to a home. If you don't catch it early, it will eat away at your home's very structure, causing major damage to its foundation, walls, floors, and ceilings.

#4 You Spot a Water Stain
You get it now. Water = bad. So even a faint water stain should light a fire under you. Zero in on the source before moisture can settle into your home's bones. A water stain on the ceiling could signal a leak in your roof, or if it's under a bathroom it could be a pipe that's leaking. Stain under a window? Your window may need caulking.

#5 Your Drain Is Really Slow (and It Gurgles)
Showering in water up to your ankles defeats the purpose. "A clean drain is a healthy drain," says Devlin. If your drain makes odd noises and takes foreeeeeeever, you could be at risk of a sewer backup, which is not only a moisture issue, but one that ranks high on the stinky scale. If you're lucky, it could be a simple clog, but either way it might be a good idea to put your plumber's number in your cellphone's favorites list.

#6 You Hear Something That's Alive
The pitter-patter of tiny rodent footsteps is enough to send shivers down your spine — and can quickly multiply into a mini stampede. One couple found out the hard way.

"We found that a squirrel had taken up residence in the attic and was chewing through electrical wires," says David Bowers. By the time he and his partner, Sharon Bowers, (BTW, they co-authored "The Useful Book: 201 Life Skills They Used to Teach in Home Ec and Shop") got around to calling a pro, an entire squirrel family (with more on the way!) had settled in to dine on those wires — a costly fix that was also a fire hazard.

If you hear unwanted visitors, evict them quickly, then block the entry they used. With squirrels, it might be an overgrown tree limb, which they use to jump onto your roof and then slip through a hole under roof flashing or rotting fascia, or an open window. For smaller pests, keep in mind they can come in through the tiniest of holes. (Mice can squeeze through a dime-sized opening.)

#7 Your Gutters Create Waterfalls
You may love the smell and sound of rain, but when it's cascading off your gutters in torrents instead of traveling neatly through them … well, remember those warnings about moisture? Cleaning the gutters is home maintenance 101 for good reason. "It can lead to exterior damage, as well as water damaging the foundations," says Bowers. If you spot a gutter clog, clear it. You'll be happier for it. It's probably the best thing you can do to protect your home.


Elizabeth Lilly is the site editor for "This Old House," where she's written about paint colors, chicken coops, and nearly every home improvement project in between. She uses her New York City apartment as a laboratory for executing her latest DIY ideas.



Reprinted from

HouseLogic

with permission of the NATIONAL ASSOCIATION OF REALTORS®