BORROWER EQUITY CONTINUES TO RISE

By Brian Honea

HUD Secretary Julián Castro recently said that homeownership is "still an important tool to build wealth in our country and pass that wealth on." Based on CoreLogic's Q4 2015 Equity report, a lot of wealth is being built in America.

In Q4, the aggregate amount of home equity increased over-the-year by $682 billion, or 11.5 percent, which was the 13th consecutive quarter of double-digit growth, according to the analysis. During 2015, approximately one million borrowers in the country regained equity in their homes, bringing the total of homes nationwide that have equity up to approximately 46.3 million (about 91.5 percent of homes with a mortgage) out of 50 million.

"The number of homeowners with more than 20 percent equity is rising rapidly," said Anand Nallathambi, president and CEO of CoreLogic. "Higher prices driven largely by tight supply are certainly a big reason for the rise, but continued population growth, household formation and ultralow interest rates are also factors. Looking ahead in 2016, we expect home equity levels to continue to build, which is a good thing for the long-term health of the U.S. economy."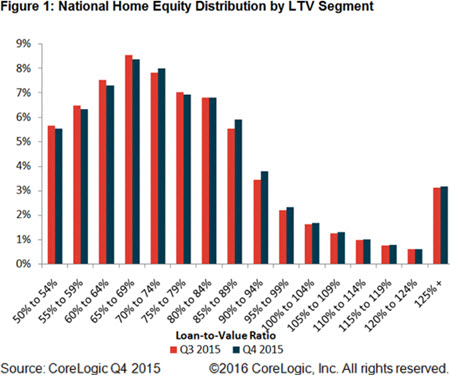 Approximately 4.3 million (8.5 percent) homes had negative equity, or were "underwater" as of the end of Q4. This total was a decline of 19 percent from the same quarter in 2014, when 5.3 million (10.7 percent) of homes were underwater. The aggregate value of negative equity in those 4.3 million homes was $311 billion, which was a 10.7 percent decline from $348 billion reported at the end of Q4 2014.
Approximately 19 percent, or 9.5 million properties, had less than 20 percent equity in Q4 (referred to as "under-equitied"), and about 2.3 percent, or 1.2 million, currently have less than 5 percent equity (in a "near negative equity" position). Typically, under-equitied borrowers have difficulty refinancing existing homes or obtaining financing to sell or buy a new home due to underwriting constraints. If home prices fall, borrowers with near negative equity are at risk of falling into negative equity.

Click here to see the complete report.

Brian Honea's writing and editing career spans 14 years across many forms of media. He served as sports editor for two suburban newspaper chains in the DFW area and has freelanced for such publications as the Yahoo! Contributor Network, Dallas Home Improvement magazine, and the Dallas Morning News. He has written four non-fiction sports books, the latest of which, The Life of Coach Chuck Curtis, was published by the TCU Press in December 2014. A lifelong Texan, Brian received his master's degree from Amberton University in Garland.

Original Source: DS News