BUILDER CONFIDENCE REMAINS SOLID IN OCTOBER

By Jill Mislinski

The National Association of Home Builders (NAHB) Housing Market Index (HMI) is a gauge of builder opinion on the relative level of current and future single-family home sales. It is a diffusion index, which means that a reading above 50 indicates a favorable outlook on home sales; below 50 indicates a negative outlook.

The latest reading of 63, a two-point decrease from last month, matched the Investing.com forecast.

Here is the opening of the most recent monthly report:

"Builder confidence in the market for newly constructed single-family homes remained on firm ground in October, down two points to a level of 63 on the National Association of Home Builders/Wells Fargo Housing Market Index (HMI).

"Even with this month's drop, builder confidence stands at its second-highest level in 2016, a sign that the housing recovery continues to make solid progress," said NAHB Chairman Ed Brady, a home builder and developer from Bloomington, Ill. "However, builders in many markets continue to express concerns about shortages of lots and labor."

"The October reading represents a mild pullback from a jump in September, and indicates that the housing market continues to make slow and steady gains," said NAHB Chief Economist Robert Dietz. "Moreover, mortgage rates remain low and the HMI index measuring future sales expectations has been over 70 for the past two months. These factors will sustain continued growth in the single-family market in the months ahead."

Here is the historical series, which dates from 1985.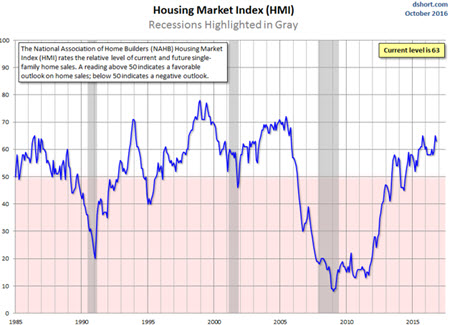 The HMI correlates fairly closely with broad measures of consumer confidence. Here is a pair of overlays with the Michigan Consumer Sentiment Index and the Conference Board's Consumer Confidence Index.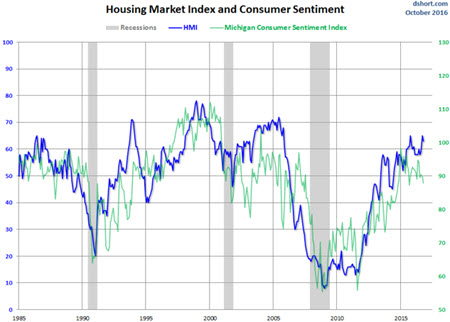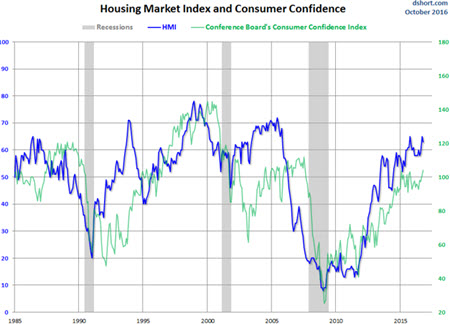 The HMI is an interesting prelude to tomorrow's release of Building Permits and Housing Starts.

Original Source: Seeking Alpha