Article from
HouseLogic.com
by
Lisa Kaplan Gordon
A little luxury goes a long way toward making your home truly your castle — and more marketable when it's time to sell.
Every remodel should add value to your home; that's our mantra. But HouseLogic knows that some
luxuries
just make your home life sweeter and easier — and there's terrific value in that, too.
Here are some of our favorite remodeling splurges that are great for your life now and someday may pique a buyer's interest.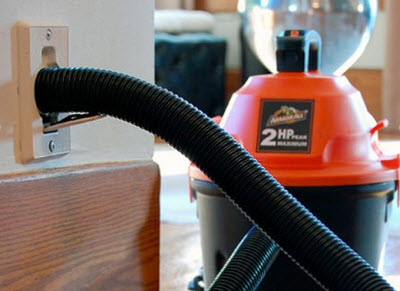 Image:
Karen Bertelsen
Central vacs store dust in a collection bin that's usually in a basement or garage (aka away from you), a feature much appreciated by allergy sufferers.
1. Central Vac (aka Whole-House Vacuum)
What
: A super-suction, built-in vacuum system that features convenient inlet ports throughout the house where you plug in 25-to-50-foot lightweight vacuum hoses. The collection bin is usually located in a basement or garage.
Why
: No more dragging heavy vacuum cleaners up and down stairs and throughout the house. With central vacs all you need to schlepp is a lightweight hose fitted with a power brush.
Central vacs have up to five times the suction power of portable vacuums, and they store dust far away from where it's collected — great for allergy sufferers. Some
high-tech systems
have retractable hoses that disappear into the wall.
Tip
: Make sure you have enough ports — at least one for every 500 sq. ft.
How much
: $1,500-$2,500 to retrofit a house; add about $500 for retractable hose.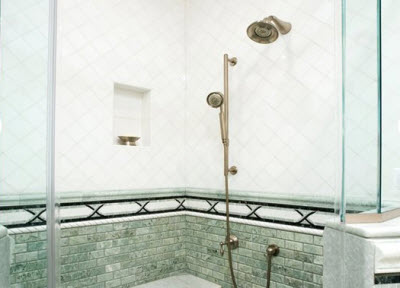 Image:
Case Design Remodeling Inc, Bethesda
Up the relaxation factor by turning your shower stall into a steam room. If you're building from scratch, slope the ceiling so the condensation runs off.
2. Steam Shower

What
: A sealed shower attached to a steam generator that turns the stall into a steam room. You can build a steam shower from scratch or buy a prefab fiberglass unit.
Why
: Steam relaxes, opens sinuses, soothes muscles, and cleans pores. Installing a
steam shower
is a major project that includes wiring for the generator; vapor-proofing walls, floors, and ceiling; installing a tightly-fitting door; and having a
bathroom fan
outside the shower to suck up the extra humidity.
Tip
: A sloped ceiling in the shower room ensures that condensation runs off.
How much
: Fiberglass unit: $1,000-$5,000; framed-in unit and generator: $7,000-$10,000.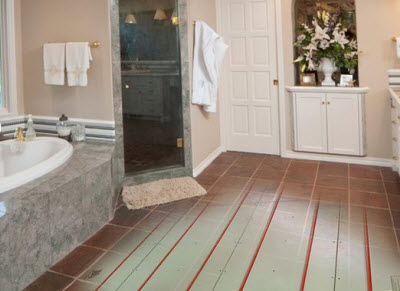 Image:
Warmboard
Thin radiant mats can be installed under bathroom tiles to pleasantly heat the floor -- a dream come true for many homeowners, especially in the middle of winter.
3. Heated Bathroom Floors
What
: Thin, thermostatically-controlled electric radiant mats that install under tile.
Why
: No more cold tootsies when stepping out of the shower in the morning. Many systems come with timers so warm bathroom floors await you each morning.
Tip
: Heated floors help stem
mold growth
in humid places.
How much
: $15.59/sq. ft. for material and installation (not counting cost of tile or adding 20-amp GFCI dedicated circuit with 110 volts, $97-$245).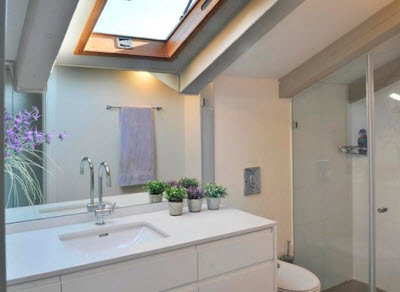 Image:
Batim Studio
A skylight in a bathroom provides plenty of natural light while maintaining much-needed privacy.
4. Super Skylights
What
: Roof windows that let sunlight in. Upscale models feature insulated glass, solar-powered shades, and rain sensors that'll automatically close an open skylight in bad weather.
Why
: Nobody likes dark, dreary rooms and hallways. Skylights let the sun shine into areas you can't brighten with windows — hallways, interior rooms, even closets.
Skylights
save you money on heating, cooling, and lighting bills.
Tip
: If you plan to open and close skylights, order screens to keep out bugs and roof debris.
How much
: $500-$3,500 (depending on size, glazing, and complexity) installed.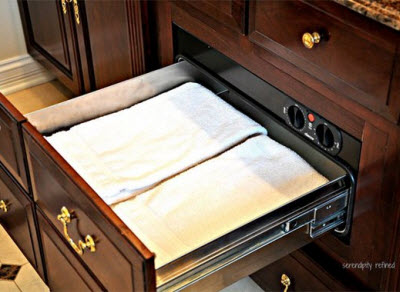 Image: SerendipityRefined.com
When Kimberly of Serendipity Refined designed her master bath, she treated herself to a towel warming drawer, which she says is especially nice during Chicago winters.
5. Towel Warming Drawer
What
: A stainless steel, heated drawer that slips into cabinetry, plugs into an outlet, and warms towels.
Why
: Because there's nothing more snuggly than wrapping a warm towel around you after a bath or shower.
Tip
: Towels take time to heat up — some people say as much as 45 minutes — so you'll have to plan ahead to have a toasty one ready when you are.
How much
: $1,700-$3,400.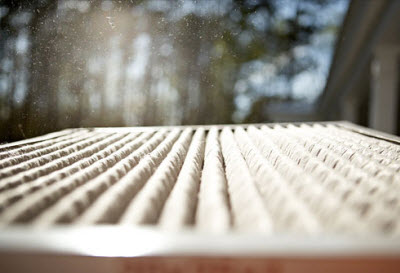 6. Whole-House Electrostatic Filters
What
: Also called "electrostatic precipitators," these dust-removing wonders are incorporated into your HVAC ductwork. They charge polluted air with a high-voltage current, and then collect particles on plates with the opposite charge. Great at removing tiny particles that slip through regular fiberglass filters.
Why
: Whole-house electrostatic filters remove smoke, dust mites, pet dander, pollen, and dust, improving air quality and health. But they also create ozone as a byproduct which is a lung irritant, so the health benefits could be a wash.
Tip
: The filters last indefinitely, but you'll have to clean the plates, some say as often as once a week; others advise every 2-3 months.
How much
: $600-$1,000 installed.

Lisa Kaplan Gordon is an avid gardener, a member of the Fairfax County Master Gardeners Association, and a builder of luxury homes in McLean, Va. She's been a Homes editor for Gannett News Service and has reviewed home improvement products for AOL.
Reprinted from HouseLogic with permission of the NATIONAL ASSOCIATION OF REALTORS®