By
Clif Droke
The last two years have seen the U.S. real estate market gain a remarkable amount of traction, surprising optimists and naysayers alike. Several important metro housing markets made impressive strides in 2017, confounding skeptics who predicted that runaway housing prices in some major cities would lead to diminished interest from prospective home buyers. Commercial construction meanwhile continues unabated in several regions of the country. In this commentary we'll look at the drivers behind the strength. I'll also explain why I believe 2018 will be the big coming out party for the real estate sector.
One of the reasons why real estate is a shoe-in for having a blowout year in 2018 is actually product of its recent success - namely, the forward momentum it has generated in recent years. The fact that most major metropolitan property markets have generated enough forward momentum in both construction and sales activity virtually guarantee a strong performance next year. The same could also be said of other markets, such as equities. Yet the stock market, unlike real estate, can reverse its forward momentum much faster which means one can never assume that a strong momentum market in the current year will necessarily translate into a stronger market the next year.
That said, contracts for developing properties are signed well in advance of the actual building, which in part explains the lagging nature of real estate trends. Due to the nature of real estate, the sector can continue to thrive even when the rest of the economy has begun to contract. Granted, real estate's forward momentum will eventually reverse, but it usually requires an extended period of time compared to other markets for a real estate boom to implode.
Let's take a look at some important indicators to see just how well the sector is performing. One sign that real estate is about to enter a "sweet spot" in its current cycle is that building permits are just under a 10-year peak.
Housing starts
surged 13.7% month-over-month in October in a consensus-beating rate of 1.29 million, according to the Census Bureau.
Meanwhile
existing homes
sold at their quickest rate since June, while newly built homes sold at their fastest pace in a decade in October. The National Association of Realtors said on Nov. 21 that existing home sales rose 2.0 percent to a seasonally adjusted annual rate of 5.48 million units for October. Existing home sales are one of the most important metrics for gauging the pulse of the real estate market since they account for around 90 percent of U.S. home sales. The following graph, courtesy of the St. Louis Fed, underscores the notable improvement in recent months.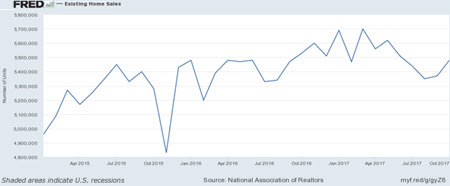 Source: St. Louis Fed
Briefing.com reports that the median existing home price for all housing types increased 5.5% to $247,000 in the latest reporting period, which was the 68th straight month of year-over-year gains. The median existing single-family home price was $248,300, up 5.4% from a year ago. Median home prices were up in all regions, according to Briefing.com.
Another important factor in our property market overview is mortgage rates. The 30-year fixed mortgage average graph is shown below. After hitting a multi-decade low of 3.35% in 2013, the 30-year mortgage rate was just 3.94% as of Dec. 7. Mortgage rates remain near all-time lows and serve as a huge incentive for builders and home buyers alike. This factor will continue to ensure strong growth in the U.S. real estate market in the year ahead.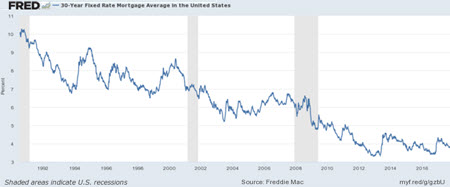 Source: St. Louis Fed
Yet another sign that housing demand will likely increase next year is the national apartment vacancy rate. From a high of 8 percent in the first quarter of 2010, apartment vacancies have plunged to around 4 percent as of mid-2017, according to data from Reis Inc. Reuters
reported
that the U.S. apartment vacancy rate increased in Q2 2017 and rents were higher. The national vacancy rate was at 4.4 percent at the end of June, which is below optimal levels and one of the lowest vacancy levels in well over a decade.
So with mortgage rates near record lows and the economy on the upswing, why isn't there greater demand for home ownership among Americans today? The reason is that the average American is still haunted by memories of the housing collapse 10 years ago. Painful memories like that take time to fade, but a relentless rise in home prices is the panacea for that pain. As the real estate bull market gains even more momentum in 2018, I believe we'll see more prospective home buyers coming out of their shells (i.e. apartments) and looking at houses as a worthwhile long-term investment once again. Ultra-low apartment vacancies can be viewed as a contrarian indicator; when everyone wants to rent rather than own – especially when their financial situations are improving – it's only a matter of time before the "smart money" realize it's time to bet on housing over apartments.
While many in the middle class are still slow to warm up to the idea of home ownership, that's far from the case in Southern California. The
San Diego Union-Tribune
recently examined
if San Diego County can build more housing to slow the pace of rent and home price increases in that market. San Diego is an extremely important real estate market to say the least. My colleague Robert Campbell, who writes
The Campbell Real Estate Timing Letter
, specializes in forecasting the Southern California property market. He has long maintained that San Diego often serves as a leading indicator for real estate trends that will eventually develop over most of the major U.S. metro property markets.
The Dec. 4 special report from the
Union-Tribune
points out that while unemployment is low and wages are rising with many millennials having children and wanting to buy houses. Yet the San Diego property market isn't responding. "Last year only about 10,000 housing units were approved, and most were for rent, not for-sale homes and condos," the article stated. The article blamed anti-growth sentiment and lack of land zoned for housing as the prime culprits.
The
Union-Tribune
article goes on to say that newcomers arriving to San Diego for jobs nearly equal those moving away, with those who move in lacking the income adequate for the limited supply of high-price housing. Homebuilders haven't added much to the middle-class market where it's "desperately needed," the article states. Current building activity in San Diego is mainly focused on the upper end of the market, both for rental and for-sale housing. This dynamic has opened a wide void which is begging to be filled. As is always eventually the case in the free market, the demand will eventually be sated.
While housing production in the San Diego market peaked in 2005, it has yet to return to its pre-crisis peak. What's more, according to the Nov. 20 issue of
Bloomberg Businessweek
, the state of California needs 180,000 new housing units each year, yet fewer than 100,000 are built. With the unfulfilled demand underlying the SoCal property market, it's extremely likely that before the real estate bull market tops out there will be a renewed boom in middle-income town home development.
One sign that homebuilding growth will continue and even accelerate next year is found in one of the best leading indicators for the homebuilding industry: the PHLX Housing Index (HGX). As the following graph testifies, homebuilding stocks have experienced an absolutely stellar run this year. Upside momentum for the homebuilders accelerated starting in September and the HGX has risen in almost vertical fashion since then, staying above its 15-day moving average for overall three months without decisively violating it. That's an accomplishment in itself considering that most stocks and major indices haven't managed that feat in those same three months.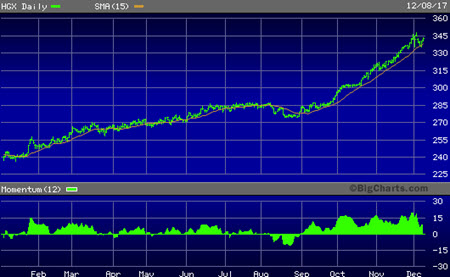 Source: www.BigCharts.com
The above graph of the HGX is telling us that the construction boom for residential housing is only just getting started. As the economy continues to improve and the wealth generated by the fantastic stock market returns of 2017 filters down to the middle class, home buying and homebuilding activity will increase next year. HGX has long been an excellent leading indicator for the housing market and this time should prove no exception.
Now let's take a look at housing prices. One of the most widely followed home price indices is the Case-Shiller 20-City Home Price Index, which tracks the monthly changes in the value of residential real estate in 20 metropolitan regions across the country. Yet an even better measure of the home price trend is the U.S. Federal Housing Finance Agency's Home Price Index. The HPI uses quarterly data and is arguably the most broad-based measure of the movement of single-family housing prices in the United States.
The HPI is a weighted, repeat-sales index for properties in over 350 metropolitan centers (versus the paltry 20 cities covered by the Case-Shiller index). As can be seen in the following graph, the HPI is currently at an all-time high after having established a major low in 2012.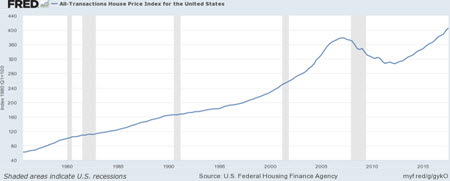 Source: St. Louis Fed
Typically, when an old high is exceeded the housing market trend tends to accelerate and continue its rise as forward momentum becomes further established. As I alluded to above, real estate price momentum is much harder to reverse than stock price momentum. What's more, rising real estate prices have an almost mythical lure to many Americans who have long viewed real estate as one of the most stable and worthwhile long-term investments. In this case the old saying is true: "Rising prices are the best form of advertisement."
It should also be noted that the major high in the HPI in the first quarter of 2007 was finally exceeded, several years after the housing bust, in the third quarter of 2016. Thus, the breakout to fresh new highs is only just over a year old which reinforces the outlook that this long-term bull market in real estate has plenty of life left. While some experts continue to express concerns about affordability and supply constraints, the indicators discussed here suggest that the sheer momentum of home sales and building activity will eventually satisfy these problems.
The takeaway from this overview is that continued improvement in the U.S. economy will encourage investors to look for alternatives to low-yielding, conservative assets such as Treasuries. The real estate sector will greatly benefit from this shifting focus in 2018 as housing becomes a focus of interest for long-term investors.
Disclosure:
I/we have no positions in any stocks mentioned, and no plans to initiate any positions within the next 72 hours.
I wrote this article myself, and it expresses my own opinions. I am not receiving compensation for it (other than from Seeking Alpha). I have no business relationship with any company whose stock is mentioned in this article.

Clif Droke is the editor of the three times weekly Momentum Strategies Report newsletter, published since 1997, which covers U.S. equity markets and various stock sectors, natural resources, money supply and bank credit trends, the dollar and the U.S. economy. The forecasts are made using a unique proprietary blend of analytical methods involving cycles, internal momentum and moving average systems, as well as investor sentiment. He is also the author of numerous books, including "The Stock Market Cycles."
Original Source:
Seeking Alpha