Having a toasty bedroom can be a balance. It's hard to fall asleep if it's too warm, and the Sleep Foundation recommends that for a good night's sleep the ideal temperature is 60-67 degrees. But nobody wants to wake up to a freezing bedroom, either.
If you're struggling to keep your sleeping area toasty this winter, check out these remedies to make sure you actually feel like getting out of bed in the morning.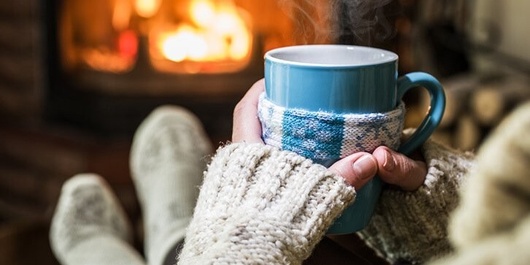 pinterest

SET YOUR THERMOSTAT WITH A TIMER
By setting your thermostat to raise the temperature in the early morning hours, your bedroom will warm up enough that you can change out of pajamas without freezing.


CLEAR THE WAY FOR VENTS AND RADIATORS
Do you even know where your vents or radiators are? If not, there's a good chance they're hiding under big furniture, causing your bedroom to be colder than other rooms.

CHANGE YOUR HVAC FILTER (IF YOU HAVE ONE)
If you have forced-air heating, one of the cheapest and most effective ways to warm up your bedroom is to check - and change - the filter on your HVAC system.

PAY ATTENTION TO THE FLOOR
The first thing your feet hit when you wake up in the morning should be something luxurious, warm, and cozy. The more of your floor you can cover up with rugs, the better. Don't forget to use a rug pad underneath, which increases the thickness and softness of any area rug you use.

USE THE SUN TO YOUR ADVANTAGE
Are you keeping your room all bundled up, even throughout the day when you are gone? That could be making your bedroom colder. The fix: Open those curtains.

REVERSE YOUR FANS
Warm air rises, right? So push it back down. The ultimate budget-friendly hack is reversing your fans, pushing warm air down to the actual living space in your bedroom. This will supplement all other efforts to insulate and warm your room.

CHECK OUT YOUR WINDOWS
If you are lucky enough to have big beautiful windows streaming light into your room at sunrise, consider what else might be leaking into your room. If your windows aren't properly insulated, or don't have solid weather stripping preventing cold air from coming in, you can solve this. Applying foam tape along areas that have a draft, then insulating them with a window film will warm up the room. If you want a more permanent fix, you can also consider double-pane glass instead of single-pane in your windows.





---
The Best Blankets to Cozy up With

Blankets are a great way to add warmth and style to any space. We researched the best blankets from Pottery Barn, Bedsure, and more.
---









For more, visit ApartmentTherapy.com